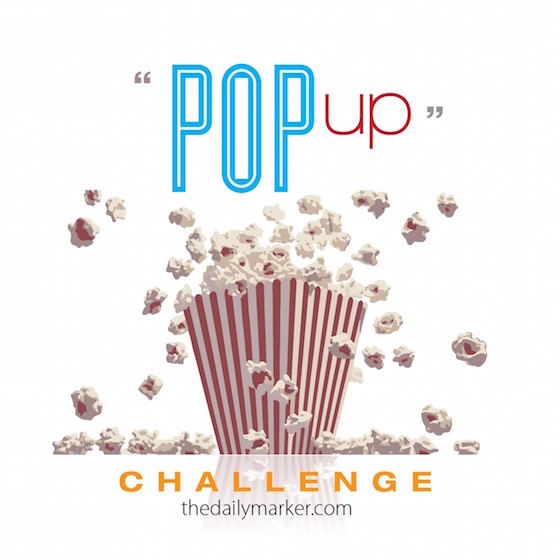 The challenge is using lines in your artwork. Although her examples used hand-drawn or die-cut lines, the first thing I thought of was this stained glass stamp image from The Cottage Stamps, Inc.
The popcorn is in honor of the Pop-up Challenge. Cute, huh? I bought my son a box of popcorn last weekend, and I think he already ate about the whole thing! I snatched a handful for my photos. However, my other shot turned out blurry so I had to retake it later [sans popcorn].
I was excited to try out my new Zig Clean Color Real Brush pens and this seemed like a great image to use them on. I wanted the colors to stay really vibrant so I didn't add a lot of water to the flowers; just enough to blend the colors a bit. For the "glass" around the flowers, I colored the narrow, darker strips heavily with a Zig marker and then used a brush and water to drag color onto the lighter areas.
The background panels are PTI Tropical Teal, which I stamped with a WPlus9 background stamp from their Defining Words set in Tropical Teal ink, and PTI True Black for the actual card and the mat around the focal image. That incredibly awesome ribbon is something I found at a scrapbook store near Chicago and was sold by the yard. Unfortunately, that store was going out of business at the time. :(
I used a Jelly Roll glitter pen from Sakura to add shimmer to the flower stamens [I think that's what they're called?], and some Simon Says Stamp sequins for accents. The sequins look especially sparkly and gorgeous in person! :)
Can you see why I chose this image for the Pop-up Challenge? All those wonderful lines representing the leaded panes of glass? I only wish I knew how to make it look as if light were shining through it.
I'll be gifting this card to another of the new teachers at my school. I have one more day of semi-peacefulness before I get bombarded! LOL