Just a quick post today. I made this card for my big brother's birthday.
I used a label stamp from the Papertrey Ink Craft Beer Collection to stamp a custom background page. The rest of the stamps are from the City Station mini stamp set, and the dies are part of the scene it collection. I found a sparkly black ribbon in my stash to create a "road" for the pick-up truck.
These images are so fun to play with! I couldn't resist using the little dog, even though the gas station isn't a place you usually see dogs. My theory is that Fido is sitting outside the door waiting for his master to come back from paying for his gas. Then he'll hop in the back of the truck and enjoy the breeze on the ride home. Makes me think of the old Lassie show for some reason. o_O
The truck is popped up on foam adhesive and I tucked a small piece of foam tape behind the garage door so it will stand open slightly.
For the sentiment on the inside of the card, I used the same stamp that I made the background paper with for the front of the card. I like the play on words; Let the good times "roll". :) The little scooter is from the Main Street stamp set, but the fire truck and pick-up come from the City Station mini set.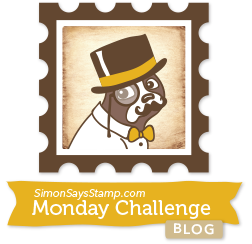 Simon Says Stamp
is one of my favorite online stores! I love their exclusive stamps and dies, but they also carry lots of other brands I use as well. Check them out if you haven't already. :)
On my way to the sleep clinic now. My son is having a sleep study tonight and I get to go sleep in am awful recliner in his room. Yay! Stiff Neck City, here I come! :-P
But I'm actually looking forward to the study. I'm hoping we'll finally be able to treat his sleep apnea effectively after this. He was having 30+ apnea episodes each hour while he sleeps! (That means he stops breathing while he sleeps.) Because of this, his brain doesn't get any rest because he keeps partially waking up. He has had 2 sleep studies already, and both times he had absolutely no REM sleep what-so-ever. REM is the restorative phase of sleep. That's when your body heals itself, and is the most restful. It's also the dream phase of sleep. My son has always claimed that he doesn't dream, but I assumed he just didn't remember his dreams. Looks like the kiddo was correct!
Please say a prayer for Jacob that we'll finally get some good results. If we can successfully treat his sleep apnea, it will change his life! Right now, he's tired, withdrawn, irritable and generally unhappy from lack of sleep. He can't focus in school, falls asleep in class, and has trouble understanding and doing his school work. Sleep deprivation is a terrible thing, and I hope we can control it after this.
Nighty night, everyone!